The Detention Division oversees the Sheriff's Office's Detention, Courts, and Transport Units.
Telephone:
If you have information or need information concerning an inmate, call 816-407-3800. Inmates can make prepaid calls only between the hours of 8 a.m. and 10 p.m. They cannot receive calls, nor will messages to inmates be accepted or passed along by detention staff.
Mailing Information:
You can send inmates mail to:
Inmate's Name
Clay County Detention Center
14 S. Water St.
Liberty, MO 64068


Incoming Mail: Books will not be accepted into this facility. Magazine subscriptions are not allowed. Nonlegal/non-governmental correspondence is only accepted in the form of postcards. This practice provides a safer, contraband-free environment for both detainees and detention staff. All postcards not meeting the standards will be returned to sender. Postcards may be no larger than 4.25 inches by 6 inches and must be properly addressed: must contain the sender's name/return address and the detainee's name in addition to the Clay County Detention Center address as listed above. Metered postcards are preferred and will generally be delivered unaltered; stamped mail will have the stamps removed which will likely damage some portion of the postcard. Postcards containing stickers, adhesive labels, watermarks, stains, lipstick, and/or any other suspected alteration/adulteration will be returned to sender.
Visitation Information
Inmates' visitation days are determined by the dayroom to which they are assigned. To determine an inmate's dayroom assignment, call 816-407-3800. This is the visitation schedule:
WEEKDAYS
| | | | | | |
| --- | --- | --- | --- | --- | --- |
| Time | Monday | Tuesday | Wednesday | Thursday | Friday |
| 8:15-9 a.m. | I, J, K, BH |   |   |   | Ad Seg |
| 9:15-10 a.m. | I, J, K, BH |   |   |   | Ad Seg |
| 10:15-11 a.m. | Ad Seg |   |   |   | I, J, K |
| 1:30-2:15 p.m. | Ad Seg |   |   |   | I, J, K |
| 3-3:45 p.m. |   | D, E, F, G, H | L, M, N | A, B, C | O, P, Q |
| 4-4:45 p.m. |   | D, E, F, G, H | L, M, N | A, B, C | O, P, Q |
| 7:30-8:15 p.m. |   | D, E, F, G, H | L, M, N | A, B, C | O, P, Q |
| 8:30-9:15 p.m. |   | D, E, F, G, H | L, M, N | A, B, C | O, P, Q |
SATURDAYS
| | |
| --- | --- |
| Time | Dayroom |
| 7:45-8:15 a.m. | A, B, C |
| 8:30-9 a.m. | A, B, C |
| 9:15-9:45 a.m. | A, B, C |
| 10-10:30 a.m. | D, E, F, G, H |
| 10:45-11:15 a.m. | D, E, F, G, H |
| 12:45-1:15 p.m. | D, E, F, G, H |
| 1:30-2 p.m. | L, M, N |
| 2:15-2:45 p.m. | L, M, N |
| 3-3:30 p.m. | L, M, N |
| 3:45-4:15 p.m. | L, M, N |
| 7:30-8 p.m. | O, P, Q |
| 8:15-8:45 p.m. | O, P, Q |
| 9-9:30 p.m. | O, P, Q |
ALL VISITS WILL BE ON A FIRST-COME, FIRST-SERVED BASIS.
Inmates are allowed one visitation period per day on their assigned visiting day with a maximum of two visitors (three visitors are permitted if at least one of them is a juvenile).
Anyone under the age of 18 must be accompanied by an adult.
A state PHOTO ID is required; passports are accepted.
Visitors should arrive 30-40 minutes before visits to sign in. We will accept ID up to 30-40 minutes prior to a visitation period.
Each visitor is requested to remain at the Detention Center after signing in for a visit.
If the visitor leaves and is not in the building at the time the visits are called, the visit will be forfeited and the inmate will lose his/her visitation privilege for that day. 
Visitors may not take anything upstairs.
Visitors must be dressed appropriately. 

Minister Visits: Monday through Friday, 8:30-11 a.m. and 1 p.m. to 5 p.m.
Classification Lockdown:  Inmates listed in classification lockdown will not be eligible for a visit until they are classified and placed on the housing floor.
Disciplinary Lockdowns:  Attorney, probation officer, and minister visits only.  
Additional Information
Clothing and Personal Items
Inmates are issued clothing, bedding, and personal hygiene items when incarcerated. Additional items can be purchased from the commissary as needed. The following items may be accepted after incarceration, subject to search and approval:  clothing for jury trial ONLY.
Commissary Funds 
Funds may be posted to an inmate's account by using the kiosk in the visitation lobby or online. The kiosk will accept cash in all denominations. The fee for using cash is $3. Debit/credit cards are accepted with a sliding-scale fee. You will need the inmate's last name to complete the transaction.  The deadline for commissary purchases is 9 a.m. Fridays. Any changes for a holiday will be posted in advance.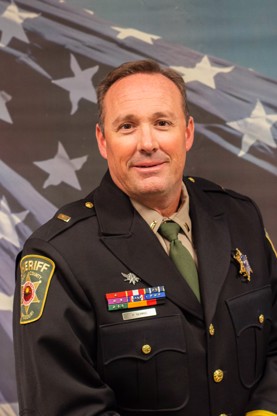 Captain Paul Norris
[email protected]