In November 2021, we began our process towards C.A.L.E.A accreditation. We anticipate to be accredited by November 2024.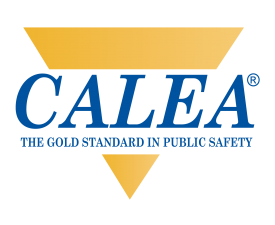 C.A.L.E.A. is an acronym for the Commission on Accreditation for Law Enforcement Agencies. The purpose of C.A.L.E.A.'s program is to make sure our policies are well-suited and followed correctly, providing safety and security not only for our own personnel, but also for any persons who come in contact with our agency or deputies.
Specifically, C.A.L.E.A.'s goals are to:
Strengthen crime prevention and control capabilities;
Formalize essential management procedures;
Establish fair and nondiscriminatory personnel practices;
Improve service delivery;
Solidify inter-agency cooperation and coordination; and
Increase community and staff confidence in the agency.
We are not yet C.A.L.E.A. accredited, but are on the road to be accredited within the next 3 years. C.A.L.E.A. Accreditation is an ongoing process that requires re-inspection by C.A.L.E.A. Assessors every four years. During those years, audits and inspections are continually handled to ensure the Clay County Sheriff's Office is maintaining their prestigious status of being accredited.
For more information on C.A.L.E.A. go to their website at www.calea.org